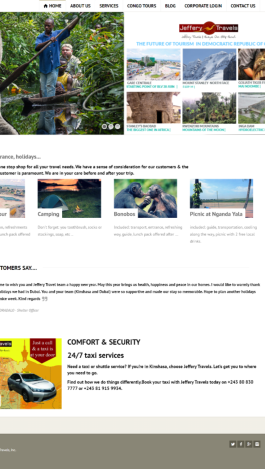 Jeffery Travels is a well established travel agency & tour operator offering services worldwide. It is operational since 1987 in the Democratic Republic of Congo. We are committed to offering travel services of the highest quality, combining our energy and enthusiasm, with our years of experience. Our greatest satisfaction comes in serving large numbers of satisfied clients who have experienced the joys and inspiration of travel. We also organize customize tours in several regions of the Democratic republic of Congo.
Our principle activities consist of booking & issuing of tickets on both local and international network. We also facilitate with travel document delivery and related services.
Secondary Activities
Transportation and airport assistance and in Beach Ngobila (baggage handling and booking the VIP lounge if necessary) at both departure and arrival.
National and international rental car.
Hotels booking
We opened our first 3 stars hotel named << Lubumbashi Hotels>>, a quiet and peaceful place. The hotel has three categories of rooms with toilets, cable TV, broadband internet connection and a laundry room. It is located on 30 June Avenue in Lubumbashi, For further information about services for the hotel please contact the hotel service or send an email to the following address: lubumbashi@jefferytravels.com
Travel Insurance in SHENGEN space. Our collaboration with Samiris and Word Escapade can cover travel insurance throughout the whole world
In partnership with Ecobank, we are an under-representation of Western Union.
Entry Visa and stay. Through a relationship we have the possibility to facilitate obtaining visas and documents of stays from the relevant services: Visa Dubai, Thailand, China, Malaysia, South Africa, Ghana, Benin, Uganda, Kenya, Congo Brazzaville, Ivory Coast, etc.
Tourism and leisure Democratic Republic of Congo.
Medical tourism in India, South Africa and Mauritius Islands.
Organisation of Conferences.
DHL Representative for the shipment of mail and packages worldwide
International sale of 3G SIM cards GlobalRoaming valid in 190 countries.
Package Business Person.
Our 30 years of experience put us one step ahead in fulfilling all your travel needs so that you can just focus on having a good time.